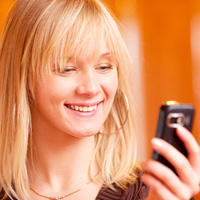 Your prospects and customers carry their mobile phones everywhere, so cell phones are a great channel to reach out to them. Sending text-only messages to their mobile phone is perfect for timely marketing announcements such as sales, events and limited-time offers. Smart phones, such as Androids and iPhones, can receive push notifications if your company creates an app and you convince people to install it. But not everyone has a smart phone, and most of the features are under-utilized. All mobile phones, smart or basic, are capable of receiving your text messages (SMS, or Short Message Service). Mobile text marketing could be an effective channel to get your cash registers ringing.
The only difficult part from your side is to get them to "opt in" to receiving your company's text messages. Legally, you need their explicit permission before sending texts. This is also the reason why people read their texts: It's a mostly spam-free channel due to these regulations.
We are overloaded with messages, but people are pretty meticulous about reading their text messages. Did you know that 3.5 billion text messages are sent and received daily?* And 97% of all SMS marketing messages get opened – most of them within 60 minutes.
You will need to subscribe to a legitimate service for sending out texts. Beware of spammers who offer to send your message to random cell phone numbers. They might even tell you their people have opted in to receive similar messages – if they do, ask to see the exact process and agreement. Using a mass service like this could result in penalties; or getting blocked, so nothing gets through.
If you have a retail location, you can opt to use an app such as MobiQpons to send out offers. When someone cruises near your storefront and has the app installed, they can receive a text coupon. However, this is not true SMS marketing, because you won't get their phone number.
Better to focus on the long-term relationship and get them to opt-in to your messages. HipCricket and similar companies let you share a code with your contacts. When people text your code to a number, they will be subscribed to your list. They can also subscribe using a web-based form.
You will need to run an ongoing campaign to encourage people to sign up. Signs, table tents, your website, your social media, your opt-in email list, flyers at the cash wrap, billboards, and radio are all good options. You might run special offers or contests to heighten motivation.
Let your potential text message subscribers understand the value, and set their expectations about what you are going to send. Promise them exclusive access to something you offer. Tell them you will need their opinions in return for prizes. Get them engaged with your customer community.
A single text message is only 160 characters long, so choose your offer and your words carefully. Schedule your texts to be sent at polite hours, because some phone owners leave their phones active all the time. Plan your texts in advance, as part of complete marketing campaigns. Texting would just be one of several channels to carry your marketing message and build relationships with your customers. For many types of companies, SMS marketing is worth looking into as another way to reach your customers.
*CTIA wireless industry trade group research