If you're a marketer, you should be doing everything possible to stay on top of the latest marketing trends. Sure, the Internet is filled with information on what's new, what's not, what's cold, and what's hot.
Your journey will likely expose you to dedicated industry publications, training and certified courses. As well as print magazines, blogs, social media, LinkedIn networking, Google alerts, and trade shows.
Congratulations! Once you've made it through the gauntlet it'll be time to circle back around and repeat the process.
Remember Books?
They're still in print, and can offer some great insights. And, you'll be able to pull your insights right off the shelf of your amazing library every time you add to your collection.
We think there are five business marketing strategies books for 2016 that are a must have.
#1: How Entrepreneurs Use Content to Build Massive Audiences and Create Radically Successful Businesses, by Joe Pulizzi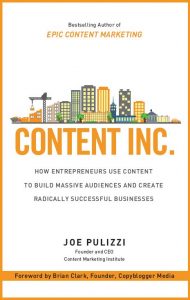 Joe makes his base in the Cleveland, Ohio area. Joe is founder of the Content Marketing Institute and knows a thing or two about creating content that will usher in an empire. If you think that content is still king, his book will impart insights for building a new kind of business.
He offers a blueprint for building an audience and then developing a product the audiences will crave. After all, if there is no audience—there will be no business.
Find the right customers in the right market. Then, build the content they appreciate. It may take research, but it will all pay off in the end.
#2. Think and Grow Rich, by Napoleon Hill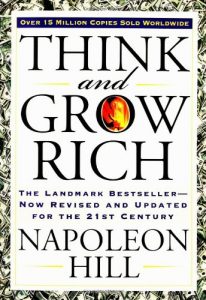 We're pulling this one out of the archives but it is still relevant to a mindset that every entrepreneur needs to cultivate. Published in 1937, it is considered the granddaddy of all motivational literature. Just like there are definite laws of nature, there are laws that lead to success, or failure.
Napoleon Hill spent a lifetime, and a fortune, in probing and discovering the secrets of what makes a person successful in life. Gain insights as to how billionaires like Bill Gates, Mary Kay Ash, and Sir John Templeton achieved success.
Each of these people, and many more, lived relatively simple lives around time-honored principles. Just update those time-honored principles to fit into today's world. And remember, the more things change, the more they remain the same.
You have the best information and opportunities in the world, but it all depends on how you use that information and embrace your opportunities.
#3. Content Chemistry: An Illustrated Handbook for Content Marketing, by Andy Crestodina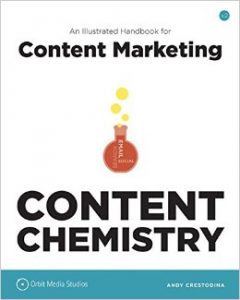 Here's another excellent read that drills down on the need for engaging and relevant content. Andy has logged years of experience as the co-founder and the Strategic Director of Orbit Media and is an expert on content marketing.
Gain insights you never imagined about social media, email marketing, and even that ancient ritual called search engine optimization. It is a light, fun read that delves directly to the heart of the matter.
#4. The Best Damn Web Marketing Checklist, Period, by Stoney deGeyter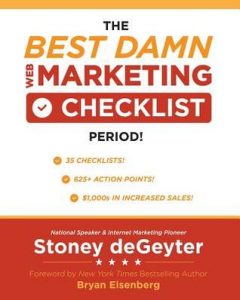 If you like checking off a list, then this is the type of reading that you will greatly enjoy. It's an amazing, thorough reference guide of what's important in building a business. It's quite comprehensive, and you'll gladly refer to it for years to come.
Again, this is an advantage to placing a book on a shelf. You can refer to it decades from now and possibly glean insights that are still relevant for that time.
Stoney started Pole Position Marketing in 1998 and uses strategic web marketing strategies to help his clients' businesses grow.
#5. Driving Demand: Transforming B2B Marketing to Meet the Needs of the Modern Buyer, by Carlos Hidalgo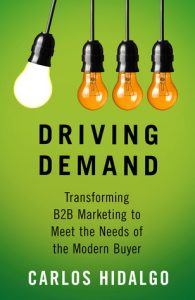 This book guides B2B organizations on how to map out and transform their demand generation. The B2B market has seen dramatic changes in the past several years. Change is imminent and comes at a rapid pace.
A vast number of organizations are always trying to play catch up. That will always be the case. When you stop feeling the need for change and growth, that is the moment your business starts to take a nosedive.
Carlos has a wealth of experience as the CEO and Principal of ANNUITAS, a demand generation firm.
Big Data Is Important
We've chosen five, but the list can go on and on. Of course, we'd be remiss not to mention how important it is to use big data to win over new customers, and to keep your present ones loyal. Big data is complex. However, keep in mind there are those moments where you'll need to listen to the voice within.
Does big data drive your business decisions, or does pure creativity drive the conditions that will eventually produce big data? It pays to know what the leaders in your field are doing at any given time.
Technology can help you target more precisely, expand your reach, and realize better business outcomes.
Small Business Trends and Predictions for 2016
Hiring will become more difficult. If your company is looking to fill skilled positions, it will take longer to fill those positions. Your human resources department will need to adapt to a changing workforce. They will be younger with a different philosophy of work and what a career means. Keep an eye on wage increases and insurance legislation.
Cyber security is important. There are fast-moving developments that deal with privacy law and the protection of data. This concerns data in the U.S. and abroad. You'll need to communicate why your company offers superior data protection services. If you don't, other companies will.
Your customers will need to be updated about your security practices. As cloud-based security services increase, cyber-security measures must also increase. SaaS breaches can have a major impact on small businesses. There will be many businesses that rely solely on the cloud.
Mobile will continue to play an important business role. If your business is brick and mortar, just keep in mind that location marketing will be the game changer. Marketing is all about the location from where your potential customer chooses to search.
Millennials will continue to drive the mentality surrounding mobile. The millennial generation's influence cannot be denied. This is a group that prefers quick actions via all their mobile devices. This will drive the distinction in how businesses approach and handle customer engagement throughout 2016 and beyond. It is all about repeat business, and businesses that are ignoring the mobile customer will lose out to their competition.
The Rise of Emotional Analytics
Analytics will continue to pave the way and will likely be more comprehensive and less expensive. These developments allow business owners to make well-informed decisions. It is now easy to test and analyze conversions within minutes, as opposed to weeks, or even months.
Expect to see a rise in companies offering software to gauge emotional analytics. Major brands are breaking new ground to analyze their messaging in ads and digital signage. They are also breaking ground with ways to analyze when, why, and how customers engage brands—it's now all about favorability etc.
New payment technology will get better. Look for software to process payment options like Bitcoin currency etc. It will be easier for smaller companies to adapt than larger companies. Larger companies have payment processing systems that have been in place for years.
Social responsibility and collaboration are increasing in importance. Today's workforce wants to feel like they are a part of something bigger than themselves. Everyone, regardless of status, wants to own something.
They work harder when they feel like they are a part of the company and its projects. The new generation demands a culture that is value-driven. Core values and honesty are the new business drivers. This will be required of both large and small businesses.
Personal relationships will continue to increase in value. Digital marketing will continue to take this into account. There is a likelihood that businesses will return to traditional methods that require face-to-face relationships and marketing that relies on word-of-mouth. Of course, all of this will be implemented with the latest technology and business practices.
Companies will continue to refine ways to break through and reach customers through all the "white noise" and business clutter.
Brand Experience Remains Crucial to Business Success
Keep mind that your business success largely relies on four factors.
1. Personalization. People don't buy from companies. People buy from people.
2. Order Satisfaction. If you're not shipping, does your product do what it's supposed to do? If not, your customers' will slip away and find a provider that can deliver on a promise.
3. Segmentation. How you divide your leads can make or break your business. Divide prospects, customer and marketing lines with respect to business needs, size, volume, and demographics.
4. Build Trust. Say what you mean, and mean what you say. Deliver on a promise, each time, every time.
Your customers will love you for delivering, and will show their gratitude by doing business with your company time and again.