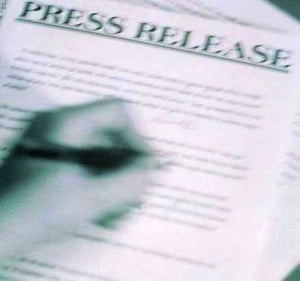 Every business wants positive public relations, and a writing a winning press release is a staple for making that happen.
The average major metro news desk receives hundreds of releases each day. So why do we only hear about a select few stories?
Aside from being poorly written or structured, releases fail when they're too self-serving or too boring or when they lack a clear objective.
A good one-to-two-page release is preceded by a release date, contact information and a succinct headline.
The city, state and date should be identified, followed by the core content that delves into the "who, what, when, where, why."
Remember to use keywords to take advantage of SEO and database search filters.
Statements should be relevant to a larger industry or consumer group. Avoid generic messages, opting instead for a humanistic approach that includes elements that affect people.
Top releases will always do one or all of the following:
Solve a problem or advance a solution
Spot a trend and its application
Reach out for a good cause
For good measure, schedule releases for a Monday, at least 14 business days in advance of your event or announcement – and follow up with a phone call to the appropriate reporter.
Since most businesses are trying to reach media giants, try localizing your story by offering a niche perspective and targeting local print, digital and broadcast media.
And don't forget the bloggers. These days, bloggers can be just as influential as a publication.
Some Do's and Don'ts for Online Press Releases
The Do's
Start Strong – Like the elevator pitch for you business you have seconds to get the readers attention. For writing a winning press release you need to start strong to get the attention of the reader.
 Identify Yourself – You need to let the readers know the source of the information quickly so you can capitalize on the promotional value of the press release.
Limit The Jargon – Be sure to write without the industry jargon. Make sure it is readable to a large audience and does not confuse the reading with industry jargon or technical language.
The Don'ts
All CAPS to emphasize
Grammatical Errors
Lack of Content
Hype
The words "you", "I" or "we" outside of a quote
So that is some tips to get you started with writing a winning press release. To promote your press release you can use some services like Pitch Engine or PRWeb great resources to get the information out there.