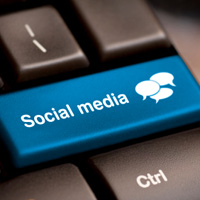 If you have a small business, you are feeling the pressure to use social media to connect with your customers and prospects. But which social media sites are worth tackling? It depends on your business, your market and the talents you bring to the table. Start by using this guide to the top 6 social media sites: Facebook, Twitter, Pinterest, YouTube and LinkedIn, and the up-and-coming Google Plus.
Notice: Succeeding at social media requires skills. Either obtain the skills or hire a social media manager before proceeding. "Winging it" is a recipe for disaster.
Facebook is especially effective for businesses that sell to consumers. Facebook is supposed to be personal and fun. If you have a fun B2C business, such as a paintball field, a dance studio, a fashionable shop, a cozy cafe or a gym, Facebook is a natural. Non-profit charities that hold fun events and post event photos are appealing on Facebook. Facebook is useful for connecting to customers, but it is not always effective for getting new customers or soliciting donations. If your business is fun, or if you can make it fun, Facebook might work. Facebook "likers" (fans) are a tough crowd, because fans don't see your posts often unless they interact. To get noticed, you need to post great content that engages people and run campaigns to get more "likers."
Twitter is helpful for boosting other social media, and it's possible to develop a following. Material you use in other places can be "tweeted" in 140 characters. Twitter has an addictive quality and keeps people always connected. But you have work to do, so weigh the time vs. benefit.
Pinterest is an online pinboard where people post and organize their favorite pictures. Artists, designers, stores and other visually-oriented businesses love to showcase their styles and products to generate interest. Businesses can create boards with humorous cartoons, inspiring quotes, innovative ideas, company or industry history, fascinating facts, and much more. If you have a visually-inspiring aspect to your business, or can find an interesting angle related to your business, Pinterest is worth a try.
YouTube is where people go when they have a how-to question or want to enjoy their interests. Even a few short YouTube videos helps a company's over-all web presence. And a YouTube channel does not need daily maintenance. This is a "don't-miss" social media outlet that provides links to your website, content for your website, and an easy way for prospects to find you.
LinkedIn is made for businesspeople to build connections and network with each other. It is far from advertising; it is more like sending one of your company's principals to a virtual conference of his or her peers. Like all other social media outlets, there are rules, and they are clearly laid out in LinkedIn help. The account should be maintained daily by a principal at your company.
Google Plus was developed to rival Facebook with the advantage of integrating with the Google search engine and other Google products. It is young and growing, so there are still opportunities to get a foothold. If you are an innovative company that likes to be on the cutting edge, Google Plus may be worthwhile, especially if you are already succeeding at several other social media platforms.
Be patient with social media. It is designed to boost all your other marketing. Putting content for your social media into a blog on your website helps draw traffic. Develop an opt-in email list to ensure you stay connected. Use tracking to find out what works for your company.