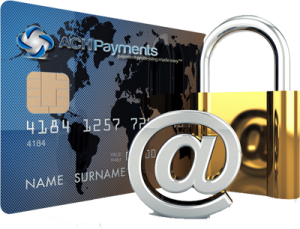 Online payment processing can refer to accepting payments via a website [ACH or credit card] or using a Virtual Terminal to set up, manage and process payments.
A Virtual Terminal is an online portal allowing for secure payment collection and reconciliation. Most payment processing companies offer a version of a Virtual Terminal though most only allow for one payment type, either ACH or credit card but rarely both together in a single platform.
Using a cloud based Online Payment Processing solutions alleviates most data integrity and back up needs allowing the merchant to save time and expense.
The Virtual Terminal and Payment Gateway often act in tandem but for merchants that may need to integrate a Payment Gateway provides the secure data transport and reporting features that allow an IT staff to integrate and automate much of the payment processing process.  The best Payment Gateway should offer you PCI compliance as well as both ACH and credit card payment options. Checking account verification may also be utilized to mitigate ACH processing risk.
If you would like information regarding Payment Gateway and Online Payment Processing please contact us.
ONLINE PAYMENT PROCESSING – PAYMENT PROCESSING COMPANIES – THE BEST PAYMENT GATEWAY