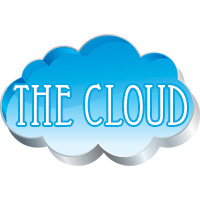 Cloud computing is on the rise and small business owners may actually be receiving the lion's share of the benefits. To most people, the term "cloud computing" conjures up the most basic functions of the cloud like virtual storage. This is only the first level of the possibilities available to cloud users, and it is called "Infrastructure as a Service" (IaaS). Market Research Media has predicted a 30% growth in the industry as more and more users plug themselves in.
With such untapped potential, it is a good idea for small businesses to explore the potential for the cloud to cut costs. Additionally, creating software, programs, databases and running them all remotely the cloud can free up time to focus on bigger administrative decisions. Software as a Service (SaaS) is the real star for small business owners looking to reduce costs and hire virtual workers. With SaaS, companies can take advantage of in-place systems and outsource their workload to remote users all over the globe. This allows many business to downsize their costly brick and mortar offices in favor of a more fluid, mobile and ultimately cost effective approach.
"If you're the kind of small business that has employees who work from different places–or has remote employees, board members, or vendors who need access to your data–cloud computing is the only way to go," says Paul Rosenfeld of Fanminder.com.
The biggest sticking points many people have with embracing the cloud are data security and information control. It may be uncomfortable at first to store databases and project files in an entirely online space. With most reputable cloud service providers, however, your valuable information is probably at least as safe as it would be stored on a company hard drive.
Some examples of readily available and cost effective cloud services include the free Google Drive and Google Docs, Basecamp (project management) and Dropbox (2GB of free storage with options for up to a TB are available). Even if your business is not ready to make the jump to a fully cloud based system, you may be able to implement it into a few key areas and experience the freedom that comes with it.