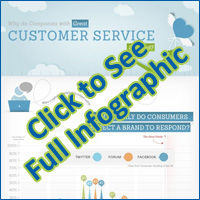 What are the vital components–and pitfalls—of a successful customer service strategy? Why Do Companies with Great Customer Service Succeed? is the title of a new infographic from KISSmetrics that compiles data from various recent surveys. These graphs and pictographs show how to encourage new customers to buy your products and services, and keep your existing customers coming back. Here are some take-aways:
Focus on your customer service staff and tools. Of the customers who said they would remain loyal to a brand, 3 out of 4 gave credit to the ability of service representatives to meet their needs or solve their problems, and over half to the ease with which they could find the help or information they needed. If there was any doubt, this makes it clear that the selection and training of your service staff is a vital part of a successful customer service strategy. The care and attention given to the "help" and information portions of your website will be repaid with interest.
Respond to questions and complaints promptly. Whether a question is submitted by email or posted on a forum or Twitter or Facebook, well over half of customers expect a response within 24 hours. A successful customer service strategy must include a means of monitoring and responding to customer complaints, questions and comments right away. Worst case scenario: about half of customers would simply stop doing business with a brand that fails to respond to questions within one week.
Check your automated phone answering system and your help pages. Most customers will accept web-based or automated telephone help systems, as long as these technologies meet their needs. There are a few phrases that you should avoid, no matter what. Among the many annoying phrases, 1 of 3 consumers found these phone messages the most irritating:
"We're sorry, but we're experiencing unusually heavy call volumes. You can hold or try back at another time."
"Your call is important to us. Please continue to hold."
And one from a help page on a web site:
"We're unable to answer your question. Please call xxx-xxx-xxxx to speak to a representative".
Does it really work? Can excellent customer service actually retain customers? Here's a fascinating statistic from the infographic. Of customers who complained about a product and got a response to their complaint, over half had positive reactions to the brand they were complaining about!  Great customer service can't fully compensate for problems, but they can smooth out the relationship with the disgruntled customers.
Your customer service is crucial to your company's success. Examining statistics from surveys are just one way to improve your strategy. Check out our 4 Tips for Better Customer Service with Social Media.
Source: Why Do Companies with Great Customer Service Succeed? by KISSmetrics, autumn 2013