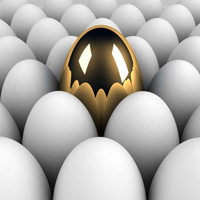 There is something about your business that stands out. Your business is unique. The sheer existence of your business means you are offering something special, even in a crowded market. Reflect on what makes your company special, and how to improve on your distinct, positive qualities.
Be very clear about what makes your company one-of-a-kind. Figure out what you are, and what you have to offer that no other company can. Also, face up to what your company is not. Meet with your staff to hammer out a statement of your company's uniqueness. Make sure everyone at the company understands it.
Focus on customer service. Put as much energy into keeping the customers you have as you put into getting new customers. A truly satisfied customer will go out of their way to tell their friends – in person, on the phone, and through social media. Your company needs to really care about their experience and make each interaction count. This sets you apart from companies that are just going through the motions.
Coming up with creative ideas for solving problems can definitely set you apart. But you need not have creativity oozing from every pore to be successful. Does your company solve a problem in a unique way that truly helps your customers? It is possible to be successful based on just one or two unique – but practical – ideas. For example, Zappos online shoe store was one of the first to offer free return shipping. This solves the problem of "I won't buy a shoe unless I have tried it on." Customers aren't penalized financially and time-wise if the shoe doesn't fit. Some customers even order a couple of different sizes and widths of the same shoe, and send back the ones that aren't perfect fits. Zappos is making tons of money by creatively solving their customers' problem.
When communicating information to your customers, say it in a way they can understand. People love stories and narratives. They are more likely to relate to a user-friendly video-based walk-though of a software program than a technical manual. Your material should tell a story, such as "My girlfriend wanted me to create her a website for her new flower shop, and I said, 'Sure, honey, I can do that in WordPress'" to kick off a WordPress walk-through. Narratives are easier to remember, and people stick around to find out what happens next.
Think about the story of your business. Want a great story with a happy ending? Discover your company's unique qualities and capitalize on them.
Check out this video, "Scott McKain Interview: How to Create Distinction"