Images are key to successfully marketing your small business on Facebook. Posts with images receive 120% more engagement (likes, comments, shares) than those with just text.1 Check out these 5 examples of ways to use images on Facebook for your small business.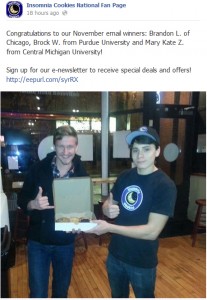 1. Promote Special Offers & Events
Offering discounts, giveaways, or special offers for your goods or services is always a great way to drive business. Adding an engaging image on Facebook gives your offer an extra boost. Promote the event or give instructions on how your audience can win in the image caption. Pay to "boost" the post. Bonus: Snap a photo of a winning customer (with permission) to show your audience a real face and celebrate customer loyalty!
This image from Insomnia Cookies, a late-night sweet shop in college towns, shows a winning customer from an email contest and invites you to sign up to receive special deals.
Be sure to comply with the Facebook promotions guidelines.
2. Show Work in Progress
Fans of your business love to see a new perspective on your services or products. Images showing an exclusive behind-the-scenes look, work in progress, or you and your staff in action are great ways to engage your audience. This gives your customers an idea of all the work that goes into the final product or service you provide.
In this photo from Blue Fish Clothing, the company's unique hand-printed clothing technique is shown in progress in their studio.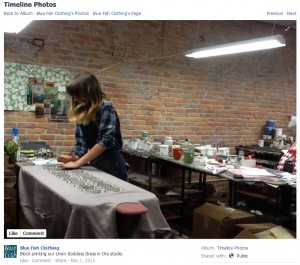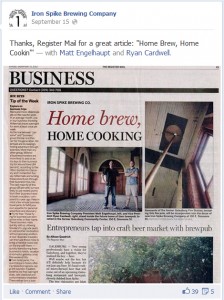 3. Toot Your Own Horn
If your business has received an award, special honor, or coverage in the media, why not tell your Facebook fans about it? Illustrate a milestone or get a photo of an article to show that your community or industry supports you company, and that you thank them for it. Don't just let your Facebook fans take your word for it!
This Facebook photo from Iron Spike Brewing Company shows a feature article on their business in a local newspaper. It also helps to build anticipation for their soon-to-open pub.
4. Offer Up the Menu
If you're in food service, this can be literal. But for any business, the point is not to shy away from text-based images. Pairing a photo of your business's "specials of the day" chalkboard with a brief caption can get your customers' attention. This could be anything from inspirational quotes to lists of new services or store hours.
This Facebook image from Baked, a small pizzeria, shows off their creative menu board with favorites and specials.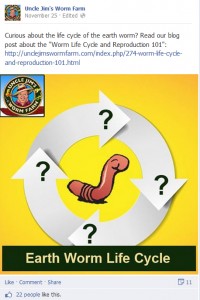 5. Lead Them to Your Blog Post
Sometimes you have a lot more to say than you can put in a Facebook post. Point customers to your blog posts in a creative way with a relevant image. This will catch their attention and maybe spark a conversation, while also encouraging more traffic to your website.
Worm composting company Uncle Jim's Worm Farm promotes one of their blog posts with an engaging image to go along with the blog link.
Remember, images on Facebook get up to 58% more engagement. When you have an important and engaging visual message, use an image and caption. Set a monthly Facebook advertising budget and pay to boost some of these posts. This approach increases engagement and gets your message out there.
Source: 1. Facebook, 2013