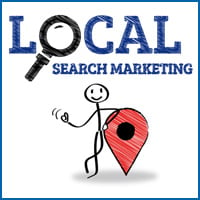 If you run a business that serves local customers, it's time to evaluate your local listings. If you are getting found in searches related to your customers' location, you will bring in more customers. If you aren't, you will never know how much business you are missing. Keep reading to find 5 easy steps for improving your local search marketing.
Local searches are things like:
People know your company and search to find your offerings, hours, phone number, etc.
Prospects are trying to choose a business because they are getting ready to buy. For example "water purification in Orlando."
Computer or mobile users are browsing the Internet or reading an article, and your company information appears in context. For instance, a parent has done a search about modern dance for children and is reading an article about it, and your local dance studio shows up in one of the margins (an ad).
You can never have total control over every way you are getting in front of your customers. However, you can have an impact on your local online presence: sometimes for free, and sometimes paid. Try this:
Step 1: Take Stock
Your company is probably already listed in many places online. Start by taking stock of all your existing local search marketing:
Type your company name into a search engine such as Google and see how what happens.
Pretend to be a consumer and type in related terms, plus your city or region.
Use a mobile device and try various related searches. What is your experience?
If you are in the hospitality business, look up your local listings on Yelp! and Trip Advisor.
Step 2: Find Out What Needs Improvement
You will probably notice gaps or places your company could improve its online presence. Look at all these areas to decide where to focus:
Search engines such as Bing and Google – paid and organic
Mapping services – your brick-and-mortar location should show up on maps in search engines, stand-alone applications, GPS units and GPS software on smartphones.
Internet Yellow Pages, local directories and industry-specific directories – paid and organic
Social media such as Facebook pages allow check-ins if your page is set up correctly – this influences local search apps.
Mobile apps, and there are thousands. Search the app store from a mobile device to figure out where you should get listed. For example, a restaurant that offers gluten-free pizza should be listed in the most popular gluten-free restaurant apps.
Step 3: Look at Your Website
You have the most control over your own site. Make sure all your brick-and-mortar locations are listed correctly. Get your webmaster to provide the right tags and text so the search robots can automatically list you correctly.
If you cover a large area, try this: A non-profit covered 5 counties, but only had one location. They were not high for searches in the other 4 counties. Their webmaster created a lengthy page about each county, with emphasis on the county seat (city). Each page had local photos, past events they had held in the county, descriptions of local resources and explanations of how the non-profit helped the community. This helped them appear in searches related to the other 4 counties and their major cities.
Step 4: Submit!
If you really need your location to get attention, look into hiring a listing management service provider. A local search marketing company helps your company's listing information up-to-date. They can help send changes to many publishers at once. This can save a lot of time and energy.
Also, look into listings in your industry, and listings that target your market. You can often create your own company profile. For instance, a company that sells IKEA products can make a profile at IkeaFans.com.
Find out where you are listed and "claim" your listing. This allows you to edit it and take control of the listing. You can often upload photos and details about your company. Claiming your listings may also help your search engine rankings.
Step 5: Pay for What Works
Test out different types of paid listings for at least six months, and cancel what isn't working. Set a budget for Google Adwords, premium online listings, and similar "extras." They will produce a report showing the number of times your ad was shown, and how many clicks you got. Some companies elect to hire an expert to manage their ads, so they don't waste money on badly performing ads.
Any company with a local presence needs to reach out online as much as possible. The printed business phone book is getting thinner and thinner because consumers are looking on their computers, smartphones and tablets. Keep the customers coming in by getting listed properly online.