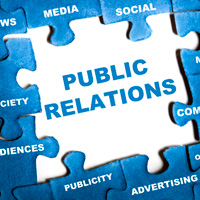 Public relations is different from advertising because you don't directly pay the news outlet or website. However, PR isn't free. PR costs. But it can definitely pay off for your company. Be sure to maximize your PR efforts as part of your overall marketing. Here is what PR costs:
PR takes time in the short term: going to trade shows, doing community service, preparing press releases, etc.
PR costs money when you have to hire someone to do the legwork, such as writers, public relations specialists, and so forth.
 PR takes time in the long term because you need to spend time planning how your company will handle PR, and make adjustments over time.
The idea is to build up the relationship between your company and the public. This needs to benefit both parties. For example, when your company donates a generous amount of money to a local charity and gets credit for this, both the charity recipients and your company benefit. When you write an informative article and get it published in an industry magazine, the readers benefit and your name is on it. This builds your reputation as experts in the field.
What you need to do is create positive public awareness of your company and what you offer. Each effort is earned, rather than paid for. You need to put yourself in the shoes of the recipient of your message. They are tuned to the radio station WIIFM (What's In It For Me?). Therefore, you need to give in order to receive.
Give the inside story to a reporter about an upcoming holiday that your industry services.
Write a press release about an upcoming event, hot news topic, or trade show that your company is involved with. Release it to the local media and perhaps use a press release service, such as PR Web, when appropriate.
Spend the time to write an opinion piece about a hot news topic related to your industry. For example, a plastic surgeon could write her opinion about a new proposed tax on cosmetic surgery. (A professional writer can be hired to handle this, with the author giving final approval.)
If you are an expert in your industry, spend a few minutes to get listed on ProfNet. Journalists might contact you when they need a quote for a breaking story. Give them your full attention when they contact you, because they are writing on a deadline. They often contact more than one expert at a time. The first one to respond often gets into the story.
Don't go too crazy with this, but sponsoring teams, charity events, concerts, local theater, etc. could benefit your company over the long term.
Giving your employees' time for charity clean-ups, helping to run events, or playing as a team wearing company logo shirts can help your company's public relations.
Become a drop-off location for a charity drive, or create your own event that gives back to the community.
The magic of public relations is that your business gets more creditability and exposure. Every time a reviewer, reporter, blogger, customer or magazine mentions your company, they are indirectly endorsing you. This helps potential customers get to know and trust you.
Your company needs to be visible. Public relations helps put your company in a positive light in the public's mind. PR is just one part of your marketing, but it complements everything else you are doing. When your company's logo is on the T-shirts at a popular charity's events, you are visible. When you have a booth at a trade show or show up in the newspaper, you are visible. Choose PR efforts that will help your company over time.