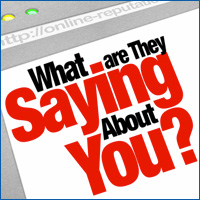 When it comes to your company's reputation, what you don't know can hurt you. You need to know where your company is listed, and what people are saying about your company online. Why?
The more places you are listed, the more chances someone will find your company.
Negative customer reviews on listings might need "damage control."
Anytime someone mentions your company, it's an opportunity. If you don't see it, it is opportunity lost.
Get Listed
Your main company listing used to be the phone book. The white pages for sure, and the yellow pages if you ran a local business. However, the world of the Internet is far more complex.
Your best place to start is to find out where you are already listed. Conduct a thorough Google search on your company name and any of your brands. You might also include your principals. Make a record or write notes about what you find. You might find your company listed on Google Places, Yelp, Angie's List, Yellow Pages, TripAdvisor, CitySearch, etc.
Now look at each existing listing in depth. Is it accurate and complete? Does it really represent your company? If not, you should be able to edit it. Be patient, because most websites will need to verify you. If possible, add pictures and links. If the listing service charges money, think very carefully before you spend. You may want to exhaust the "free stuff" before spending a penny.
Then start thinking about where else you should be listed. Do a Google search on your direct competitors and see where you should be listed side-by-side. Find a way to get listed there, if it seems worthwhile and not expensive.
Check the Reviews
Read all the reviews of your company on listings and websites. Share them all with your staff as part of your quality control process.
If a review is negative and represents an unwarranted attack, you may be able to use a grievance process on the website. Sometimes competitors or mentally ill individuals write lies. If the grievance process does not work, consult your legal adviser or look into an online reputation management service.
Stay Connected
You will want to set up Google Alerts to continuously monitor what is happening with your company online. Just go to alerts.google.com and type in your company name (and your location, if needed). Set it to return all results at first — you can narrow it down to "only the best" if the volume of results is overwhelming. The Google Alerts can be sent to your email address each day. Log in to Google to manage your alerts.
See the Opportunities
You do not have to react every time someone mentions your company, but you can be on the lookout for opportunity. For example, publicly addressing a grievance with a customer on social media can put your company in a good light, if handled correctly. Ask one person or department at your company to prepare a regular report about your company's online reputation.
By staying aware of information that potential customers are seeing online, you are being pro-active. Harness the power of online reputation management to help your company succeed.