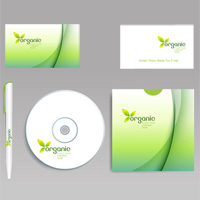 If you want more customers, take an objective look at your company's "design": logo, colors, fonts, signage, website, the interior and exterior of any brick-and-mortar locations, etc. One thing is certain: your prospects and customers are looking! If your design doesn't appeal to them, then people will walk away, often without your knowledge. Design is a filter that people use when judging a company's quality. You cannot afford to overlook these basic design guidelines for any business.
Good Design Doesn't Have to be Expensive
If you run a franchise, the design elements are handed to you. If you don't, then you need to take a close look at your current design. Ask people what they think of your logo. Does it reflect what you actually offer? It is easy to read? If you need a new or freshened logo, get quotes from graphic designers or perhaps students at local art college. Maybe an online logo service such as LogoMaker.com can get you an economical logo that looks great.
If you are truly on a tight budget and have an eye for design, try free color palette creators and experiment with legible fonts. You can find free image editors like PicMonkey. Just remember that your logo must be an original design. You cannot legally use images swiped from the web ("Google images") or buy stock images for your logo. Check the license agreement to be sure.
Use Your Design Consistently
From your logo springs your design elements: colors, font, perhaps some images (think the Nike swish). Every piece of advertising material should be based on your company's design. This means if you laid out your signage, business cards, website, email marketing template, brochures, ads, Facebook timeline, Twitter profile and LinkedIn profile on a table, everything would be similar and clearly identifiable as your company. Even small companies need basic design to be noticeable. Did you know that it takes up to seven touches before prospects even notice you? This might be a print ad, a business card, a poster, a friend, and a business card — so they had better all look similar and use the design.
Layout Is Important
Great design includes white space, legible fonts, high-contrast colors, and good page layout. Happily, many email templates have already been designed to help you. You can download templates for free, or use the ones built in to your email marketing system (such as MailChimp or Constant Contact). When you create or update your website, make sure an existing and beautiful website template is modified to reflect your design.
There is no substitute for having a great offer, superb customer service and excellent products. Kick off your relationship with prospects by having a good design, consistently, across all marketing channels. Prospects will be more likely to take an interest in your company when your design draws them in.
Thanks for your interest in our blog. Contact us if your company has a need for our ACH payment processing services.