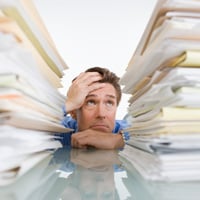 When you prepare to send an email out to your list, how long should it be? How many different articles should it have? How long should each article be?
The cold truth is that shorter email marketing messages are generally the most effective. People receive an average of 147 emails per day.* Big emails are overwhelming and tend to get deferred – sometimes forever. The majority of email users open emails on their mobile device+ and refuse to read a lengthy email on a miniature screen.
Businesses and non-profits are still clinging to the idea that one big, fat monthly newsletter is all they need. Crammed full of announcements, calls to action, upcoming events, and feature articles, some of these newsletter run on for pages and have 2,500 words plus. This can work for a low-budget non-profit with a dedicated following, such as specialty association. Members will open and read these emails no matter what. Look at the open rates and if at least half are opening it, call it a success.
However, the majority of organizations need to focus on shorter, punchier emails, ideally with a single call-to-action. Start by looking at the types of information your organization sends out in a typical month. Make a list: for example, 4 special discounts, a campaign to sells seats at a conference,  2 feature articles, 4 photos, etc. Analyze several month's worth of past emails, as well as information you wish you could have sent out, but didn't.
Now start putting the content into an editorial calendar. An ecommerce business might decide to send an email every 2 weeks with part of a feature article that links to the website's blog, links to the website, 2 specials, and a coupon. A health club could send an email once a week with all upcoming classes, courses and events, plus an email every 2 weeks highlighting a single course or event. An event-based company might choose to highlight two or three important upcoming events with links to register.
Some of these emails could potentially be very lengthy, but it's possible to shorten them by making links. The ecommerce company could publish only the first 150 words of a featured blog post with an image, then link to the blog post. This drives traffic to the website and tells the ecommerce company who is engaged with the content. The health club email might allot only a small article for each announcement with "who what when where how," a small uniformly-sized image, and a link to learn more or take action.
You can also shorten emails by letting pictures tell some of the story. Photos, cartoons, logos, maps, design and floor plans are just a few examples. Infographics (information graphics) are a popular way of communicating ideas visually. A graphic artist can design an infographic to simplify even complex information. If a subscriber doesn't turn on their images, the message will be lost on them. So tell them to turn on their images, like this: "Check out our amazing new "Pretty in Pink" tie-die shirts! (turn on your images if you can't see them, or click here)." Supply a link to a web page that has the images, information and action step. And always have a link to a web-based version of your email. Most email marketing systems, such as Constant Contact and MailChimp, will do this for you.
In email marketing, less is more. Make shorter emails using links and images for best results.
*Source: Baydin
+Source: Harris Interactive
We try to deliver information that might help our client base in their everyday business affairs. If you find our information helps you, why not contacts us next time you need ACH services!