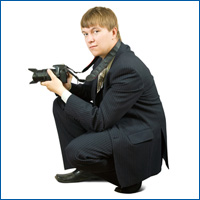 Since images are a universal language, making better images will improve your marketing campaigns. Whether you are sending an email to your mailing list, posting to your Facebook page, or issuing a press release, an image is still worth a thousand words. Including quality images in marketing your business can make all the difference in attracting and engaging clients.
Social media staples Facebook, Instagram, and Pinterest have put more and more emphasis on photos. The result is that people have come to expect a visual element in the content they consume. The ease and speed of posting and sharing photos is greater than ever, and so is the importance of relevant, high-quality photos for your business to stand out in the crowd.
So what difference do photos really make for your business? No matter where you have a presence — in a store or anywhere online — photos equal engagement. Check out some impressive statistics and start implementing these suggestions.
Articles containing images get 94% more views on average than articles without images. News items, sports coverage, and political news in particular benefit from accompanying photos. If you write articles or blog posts for your business, be sure to include photos — with captions.
The average rate of engagement with Facebook posts is 37% higher for photos than for plain text. Photos also beat out video posts and links for the most viewer engagement. Try including more images when you post on your company's Facebook page, and spend time writing a short, punchy caption. Remember, the caption can contain a link.
67% of online shoppers consider the quality of product images to be most important. Many value the images over long descriptions, detailed product information, reviews and ratings. If you have an online store for your business, make sure you have large, high-quality photographs of the products or services you sell, and consider offering multiple views of each product.
The more types of different multimedia included in press materials, the more views the press release garners. Just including a photo can boost views by 14%, but with the inclusion of photos in addition to video and other media such as charts or sound clips, a press release may be seen up to 77% more. When writing a press release for your business, consider all of the visual and auditory supplements you could include with the text. If your press release is interesting to media outside of your own city, try a press release distribution service to get much broader exposure.
When searching for a business online, 60% of people are more likely to take note of or contact businesses that have a photo appear in the search results. This means you should have an image of your business or service on your own website and other sites, not just a logo. Be sure to include keyword-rich captions and "alt text" to help the image show up in searches.
It may seem like a small thing, but people love images. Using good-quality images in your marketing means your business gets seen in a positive light.