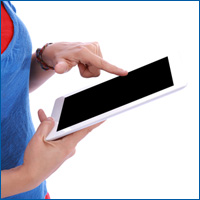 Tablets such as the iPad and Kindle Fire are becoming increasingly popular, so your website needs to cater to tablets. Many people exclusively think "smartphone" when considering mobile internet access, however, it is time to include the tablet in the conversation. According to a new survey by the Pew Research Center's Internet and American Life Project, slightly more than a third of American adults (34%) own tablets now. This is nearly double the reported ownership of just last year (18%).
The survey collected data from more than 2,200 adults in the United States. It found that tablet adoption is highest among 35- to 44-year-olds. In this age group, 49 percent of respondents said they now own a tablet. This data makes sense as the tablet provides a much larger screen that is easy to work with. Tablet screens average around 8 to 9 inches diagonally, more than four times the area of a typical smartphone, without losing much mobility.
To take advantage of this increased size, businesses should test their website on a tablet. Visit your website using a tablet, and ask yourself the following questions:
Do users have to scroll around and pinch-zoom to view the content?
Are the forms working properly and easy to fill out?
How clearly are your products and services laid out for tablet users?
Many businesses are already making mobile websites a priority because of the explosion in smartphone usage. However, it is also possible to create a mobile website that is customized for tablet users. The best online experiences stem from a seamless transition from smartphone to desktop computer to laptop to tablet. This allows users to access your services anytime and anywhere, however they please.
Other interesting data from the study showed that:
Tablet ownership among parents with young children at home has also nearly doubled from 26 percent in April 2012 to 50 percent by May 2013
Those living in households making at least $75,000 per year have increasingly adopted tablet use from 34 percent to 56 percent.
College graduates have jumped on board, increasing usage from 28 percent to 49 percent in a year.
The takeaway for businesses is this: Smartphones are generally the first thing people think of when it comes to mobile. However, tablets are also playing an important role in the lives of your customers. Tablet adoption nearly doubled in the last year. More than a third of all Americans are now accessing the internet via a tablet. It's never been more important to get ready for mobile.
Thanks for visiting us at ACH Payments!