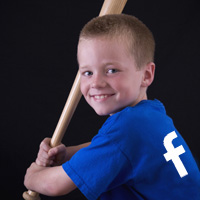 The best way to develop loyal fans on Facebook is to keep them happy. Many companies have found that Facebook lets them easily interact with their customers and keep their company top-of-mind. A good Facebook presence can substantially enhance your relationships with your customers, and help build community. But how do you keep them happy? Here are four tips to turn up the happiness dial:
Monitor your clientele. At least twice a day, spend 5-10 minutes scrolling through your news feed and your company's news feed ("Use facebook as" your company). See what kind of things people are posting and sharing. Pay attention to the number of likes and comments, and note the type of posts that generate the most conversation. See what is trending, and make posts about trends that your fanbase cares about.
Ask questions of your fans. Every person in this world has the desire to express their opinion. Tap into this innate quality and get your fans talking to you and to each other. Build a community around conversation and encourage fans to think about your words. Get your company's name stuck in their head by making them excited enough to respond and share.
Mix up the media. No one wants to just read post after post, even if you possess the literary skills of Hemingway. Make videos, take pictures and post relevant music or other forms of multimedia that further your cause. People love to share cool pictures, good music and funny videos. Facebook conveniently has a "share" button that even includes who the original poster was. Wouldn't it be fantastic to gain access to each fan's friend pool by simply making them laugh enough to share your content?
React Immediately to Comments. When someone posts a comment on your company's page, someone in customer service should respond on Facebook immediately whenever possible. It may help to install the "Facebook Pages" app or a similar app that offers push notifications on a smartphone. Respond immediately when someone posts on your company's page, regardless of whether it is a positive or negative Facebook post. The customer is probably still on Facebook and will see your update right away. That is great customer service, and it makes them happy.
There is no magic to building an effective Facebook page. Give your likers a fun experience that makes them feel happy.