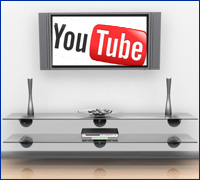 Many businesses have their own YouTube Channel, but how do you make this a "must-watch" channel? As the 2nd-largest search engine, YouTube is important for reaching new customers and connecting with existing clientele. Let us delve deeper into what makes a YouTube channel successful.
Stick to a schedule!
Consistency is vital to becoming repeatedly watchable YouTube channel. Imagine for a second if Fox only showed programming for a couple hours a day and the rest of the broadcast was simply static. No one would bother to tune in, because they might not find anything new. Update, update, update.
Act Like It's a TV Channel
Treat your YouTube channel like a slimmed down version of a television channel. Posting videos on a strict regimen and around the same time of day is a good way for your viewers to get used to seeing your content. Popular shows on television are always reminding their viewers what day and what time the next episode will be airing. This is part of why they are so popular. At the end of of videos, in the description or even on your website or blog, let your viewers know exactly when they can expect more content and then follow through. If your content is good people will subscribe or at least check back at the stated time and day.
Create Good Content
People watch things on YouTube to avoid commercials and enjoy diverse programming selections. Nobody wants to watch the wheel reinvented for the millionth time even if it is in super hi-definition and slow motion. So spend some time creating original content that says something new, or at least says it in a compelling manner. Content is king when it comes to increasing viewership.
Keep It the Right Length
It is very important to create videos whose length matches the amount of content. This is why review videos are often much longer than a v-log or music video. If a viewer knows they need to dig deeper into a subject, they will pay attention longer. If what you are trying to say can be said in under a minute, then that is how long your video should be.
Interact with Viewers
Finally, never forget that a great YouTube channel requires a great audience. Interact with your viewers, give them calls to action and encourage constructive conversation. Without fail there will be a slew of negative comments due to the anonymity provided online but persist, continue making quality videos with quality content and you will undoubtedly gain a following.