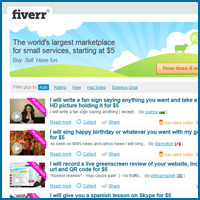 Have you ever wanted to just hand off a task at work, with no strings attached? We have discovered an economical and quick way to find someone to do a single task for as little as a fiver ($5). It's called fiverr.com and here are some of the useful business tasks they offer:
write a short press release
submit a press release
write ad copy
proofread
coach you through 1 business challenge
provide a business plan template
write a jingle
manipulate an image
draw a cartoon
review your website on video
translate material to another language
create a web form
answer questions about Internet marketing
tweet about your company or product
plus a lot of silly and bizarre tasks
To get started, you can browse through listings created by the service providers in categories such as Business, Advertising, Online Marketing, Graphics or Tips and Advice. You can also search to find relevant listings.
Each listing has a headline such as "I will write a press release for your company or event for $5", a photo of the service provider, a flag representing the provider's location, and a link to a detailed description and reviews. The description sets limits on the offer and gives you an estimated turnaround time. From here, you can create an account and order the job.
If you can't find what you need, you can type a description in "Request Gigs™" and service providers will bid on it.
You must use PayPal to pay, so if you don't have a PayPal account, visit PayPal.com and create one.
If you search for business-related services, you can find some very talented people to offload many tasks.
Check it out and tell us about your experience. We would appreciate the feedback.
Click to visit Fiverr.com now!
manipulate an image
draw a cartoon