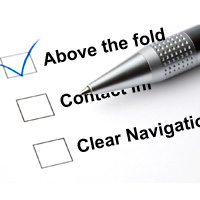 Your website's home page could be your only chance to make a good impression on a prospect. Who are you, and what do you do? How can you start building trust with that prospect? Make sure your home page has these essential elements:
Put your most important items "above the fold." This means the top part of the screen on a typical monitor needs to have the most important information. People do not like to scroll down. A significant number of visitors will use a laptop screen, which is even shorter.
Your logo and colors.
Company phone number, or a Google phone number.
If you have a brick-and-mortar presence, your full address and a link to a map.
Clear links to an email address or contact form.
Images that show what you offer.
A menu across the top or down one side of the page. Carefully put the most important menu items at the top level of the menu. Think how a customer might think and design the "navigation" with their needs in mind.
Most businesses that have a shopping cart (ecommerce) should have items to sell on the home page. Don't force the visitor to click "Shop" unless ecommerce is a very minor part of the site. And be sure to have a prominent link to the checkout page from every page to help avoid abandoned carts.
A search box so your potential customers can find products or other items of interest on your site.
Email list signup box or link so you can turn prospects into customers by sending opt-in emails. Offer an incentive for signing up, like a coupon or whitepaper. Use an email marketing program such as Constant Contact to stay in touch with information they want to receive.
Ensure you have large social media buttons that link to your company's Facebook, Twitter, Pinterest and/or LinkedIn accounts.
If there is room, add "feed widgets" to show your latest posts/pins/tweets. These provide instant gratification and encourage interaction.
Test your home page with a representative group of site visitors to make sure it is meeting their needs. Run an A-B test of two similar version of your home page to see which performs better (measure sales, filling out a contact form, time spent on site, etc.). A good web developer can set this up to run automatically.
Once your home page is in good condition, run a weekly "quality check" on the home page — and the entire site — to make sure the site is in good shape.
Run a spell checker on the entire site. Typos are inevitable whenever people add content. To find a tool, type "spell check website" into Google.
Install a spellchecker into your web browser to monitor for typos as you read. Find one by typing the name of your browser (Firefox, Internet Explorer, etc.) and "spell check" into Google.
Make sure all the links work. Find an automated tool or use Google Webmaster Tools.