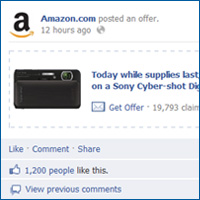 "Facebook Offers" is a new Facebook feature that businesses can use to offer promotions or discounts to fans of the business's Facebook page.
An offer can be for online purchases or in-store, or both. For example, if a business created a buy-one-get-one offer on a particular product, redeemable both online and in-store, fans can either go to the business's website and redeem it there or take a printed copy (or their smart phone) to the business's store.  Fans can also share offers with their friends.
The cost to the business for an offer is related to the number of people it will reach.
When creating your offer, you will have the opportunity to submit a small (90×90 pixel) image and some supporting text.  For best results, make the image colorful and striking , and have the text state clearly what you are offering. A call to action is essential – "Buy one get one free", "25% off all in-stock gizmos" or similar. At the same time, try to make your offer sound social in nature, something people would like to share with their friends, rather than just advertising.
Before you can use Facebook Offers, you need to have at least 400 "likers" (fans). To get started, go to your business's Facebook page. Look in the "Status" area where you make posts, and click on the link labeled "Offer, Event +." Then click "Offer."  You will be given the option of choosing whether your offer will be redeemable in-store, or online, or both. Add the image and text of your offer, specify details like terms & conditions, and set your budget for offer fees.
Unlike "daily deals" such as Groupon, Facebook Offers does not require that minimum number of people claim the offer before it is valid. You can set a maximum.
Learn more on the Facebook Help page.