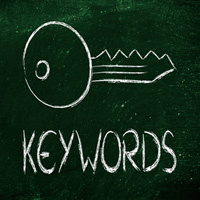 The decision to start blogging in order to attract customers to your website is an easy one. In fact, it's more or less a requirement in today's marketing climate. You know you need to create articles on topics your potential clients will be interested in reading, and you know you need to pepper your articles with keywords that will encourage search engines to direct those potential clients to your blog (SEO = Search Engine Optimization). But how can you be sure you are including the correct keywords?   Here are some ideas for choosing the keywords that are right for you and your business.
Start by compiling a master list of keywords. This is the list that will guide you in writing blog articles now and in the future, so it is worth taking some time to make it right.
No doubt a few keywords will come to mind immediately. Jot them down, along with your ideas of what makes them important. Then go through your existing product/service descriptions, marketing materials and FAQs looking for other candidates. Don't be too selective — you will be weeding out the non-starters later.
When you have a good number, say at least 50, go through them one by one and consider how your clients would think about the ideas behind the keyword. If you judge it completely irrelevant or superfluous, discard it.
The next task is to assign a value to each keyword; that is, to determine which keywords are more likely to give you the results you want, so you can concentrate on them when writing your articles.
The two top characteristics of a keyword's value are demand and exclusivity. Demand means the keyword is used often in searches. Exclusivity means not a lot of websites are using the keyword. Keywords that are high in both demand and exclusivity are the best. You need to identify and exploit them whenever you can.
There are tools that can evaluate keywords for these and other characteristics. A good place to start is with the keyword evaluation tool offered Google Adwords. You can use this tool for free without buying any ads. There are many other tools available; a search for keyword search evaluation will find them. Ultimately, you want to be able to assign a value for demand and exclusivity to each of your keywords. Some of these tools will generate a long lists of keywords and key phrases related to your keywords.
Now you need to prioritize your keywords. Arrange the ones with the highest demand and best exclusivity at the top of the list. At the bottom will be those that are not commonly used in searches and/or have a lot of "competition" in website usage.
The top keywords now become your master list–maybe 25 in all. These are the ones you will concentrate on when writing your articles.
Choose a topic for each of your articles that focuses on one of your top keywords. Be sure you use a tracking tool, such as Google Analytics, on your blog so you can judge the effectiveness of an article. If you find that one of the articles you write gets lots of traffic from the search engines, consider writing more blog posts on that topic.
The point of blogging in business is to attract new clients and retain existing ones. Of course your articles need to be interesting and useful to your target market. But if you combine these features with carefully selected keywords, you can be closer to reaching the widest possible audience. Using the right keywords may enhance your search engine rankings, drawing in more traffic through better SEO.