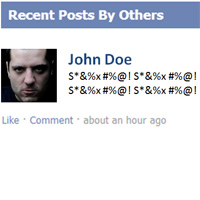 Most small business owners are delighted when their Facebook page attracts lots of fans and generates interest in its products and services. But what do you do when an unhappy customer posts negative comments on your page? Here are some ideas on how to handle this all-too-common situation.
First of all, stay aware of what is happening on your Facebook page. You can get email notification of new comments. There is a variety of tools for your mobile phone, tablet and computer that will help you keep up with activity on your page. For example, "Pages" and "Push" send notifications to your iPhone or iPad; Facebook can send text messages; and HubSpot continuously monitors all your social media.
Be sure to monitor your Facebook comments closely — and respond right away, particularly in the case of negative comments. Delaying your response may result in a "me too" chorus, which is the last thing you want. If the comment will require research in order to make a useful response, post an interim response saying you are working on it and will respond in full later.
If there is an issue, address it directly. If the commenter has bumped into some deficiency in your product or service, tell them how you plan to solve it — improved product, intra-release update, fixed next release, future requirement, etc. — and then do it. If there's a work-around, give instructions. Make your responses honest, forthcoming, and helpful. If the problem can be fixed within your company's customer satisfaction policies, fix it.
Irrational comments require rational responses. Sometimes a negative comment will simply be critical without mentioning any specific problem. Avoid the temptation to defend your product or service in public — that is an argument you cannot win. And do not delete comments because they are negative; your other fans might notice. Instead, respond calmly and politely, perhaps saying that you are sorry they are having a problem and inviting them to be specific.
Many times if you are careful with your response, you can turn a negative comment into an opportunity to demonstrate that your company listens to its customers and takes their experiences seriously. And that is a great message for all your customers.