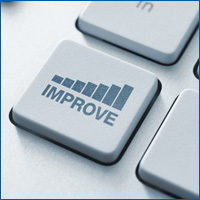 No matter what type of business you run, your website can always be improved to increase sales. Whether you have a service-based business, ecommerce site, or retail outlet, taking the time to improve your website can pay off. Websites are like your storefront: they make the first impression. Check out these tips for stopping some common cash-flow leaks on your website.
Make Better Landing Pages
Begin by studying the bounce rate of your website landing pages. Landing pages are the pages people visit directly from a search engine, after clicking an online advertisement, or after seeing an email or social media post. Log in to your website analytics account to see this number. A high bounce rate means that a large portion of visitors are leaving after visiting just one page on your site. Typical businesses lose a surprising 50-60 percent of visitors without recording a click. Generally, visitors have landed on your site for a reason so why would they be so quick to leave?
To stem this leak:
Explain what your business has to offer, and which problems it solves, in clear and concise language.
Simplify all content pages so viewers are not distracted by clutter.
Take the customer by the hand and lead them through the sales process with very clear "calls to action."
Picture Your Audience
A picture is worth a thousands words so spend time forming a picture of your target audience(s) in a sketch or graphics program. Give each type of target customer a label. Understand who you are communicating with. It is much easier to fill someone's needs if you know what those needs are and why they exist. Build your website around your target customer(s) and their needs.
Make it Easy to Use
For many people, the process of shopping for a product or service can be quite a chore. Seize this opportunity to be as helpful as you can and your clients will thank you for it with their business. Hold a visitor's hand through calls to action or sales steps by making each step clear. Offer a pop-up chat window. Get people from your target audience to try out your website while you watch or record it, and see where they get stuck. If you have a shopping cart, how could you make it easier to use?
Improve Consistently
Make an appointment to check your website once a week for ease of use, functionality, and freshness. Pretend you are a potential customer: What is your experience on the site? Ensure that you and your team are building landing pages that have a high conversion rate and usable shopping carts. Improving your website can have a positive impact on sales, so take the time to make your site better.
When is your company going to increase payments efficiency and reduce costs with ACH payments?