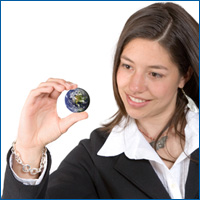 With all the advances in Internet, social media and mobile technology, how have small businesses changed over the last five years? Constant Contact recently surveyed business owners to reveal differences in running their business today as compared to five years ago. The results illuminate just how much the business landscape has shifted — and reveals how it may continue to change.
The three biggest differences cited between then and now?
84% of the small businesses surveyed said they use more online marketing tools today than they did five years ago.
59% said economic uncertainty makes the biggest difference in the way they run their business
27% said they use more automated business solutions
Does this mean that running a small business has gotten any easier?
59% said that it is harder today than 5 years ago
30% said it has stayed the same
12% said it was more difficult then than it is now
Of those businesses who believe running a business to be more difficult today:
55% credited the economy
49% pointed to keeping up with advancing technology
40% attributed it to more competition
The survey also showed, unsurprisingly, huge increases in the use of email marketing, online directories, event marketing, and social media marketing for businesses. This highlights the growing importance of word-of-mouth in gaining and keeping customers.
Customers have changed, too. Many businesses said that they have more customers today, who spend more money. However, business owners have also noticed customers' raised expectations — better value, discounts, and superior service — compared to five years ago.
Despite any negatives, small business owners seem optimistic about the near future: 72% of businesses in the survey expected their revenues to increase this year. But 56% said they did not plan on hiring in the next six months.
So what does this mean for the next five years? By 2018, many businesses (58%) seemed to believe they will be thriving. 26% said they should be holding steady, while 8% admitted they think their business will probably have gone under in another five years.
It's clear that a changing economy and continued advances in mobile and online marketing will continue to influence small business practice. The survey illustrates just how much business owners have had to adapt to these changes, and how they will need to adapt to future trends.
Source: Constant Contact conducted a survey of 917 small businesses.
Contact us for your ACH processing or credit card merchant account needs!