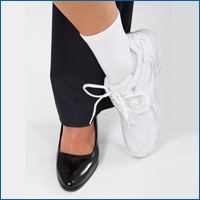 How should a small business owner separate personal life and work in social media? Do you have to be using all types of social media as a "person" in order to market your business online? Let's look at four primary platforms for marketing small businesses: Facebook, Twitter, LinkedIn, and Pinterest.
Facebook
To market your small business on Facebook, you begin with your own personal profile (account). In the past, you could create an account for your business, but those days are over. Facebook now requires that everyone on Facebook be a real person. Any violations can be detected or reported and the account can be shut down. If your business has a "personal" profile, look up the instructions about how to convert it to a page.
Don't make the mistake of trying to run your business from your personal profile. That will annoy your friends and violate Facebook's Statement of Rights and Responsibilities. A business page will give you access to Facebook insights, advanced advertising, and other tools for businesses. Also, a page can have an unlimited number of likers.
From your personal profile, create a business page. This is how Facebook wants businesses to do it. Your personal profile does not have to be in daily use. You don't have to make a ton of friends or post photos of your lunch. Just having a legitimate profile on Facebook is good enough. If you have any personal interactions, they will not show up on your business page. They are separate – and you will post "as" your business, not as yourself, unless you over-ride this.
Twitter
With Twitter, there is no difference between people and businesses. You should create a business Twitter account using an email address associated with your business. No personal Twitter account is needed. Select a Twitter handle that suits your business and fill it in from a business point-of-view.
Of course, if you feel the urge to tweet personal stuff, create your own separate personal twitter account. You don't want to confuse your followers by mixing personal with business.
LinkedIn
First, make sure you have a personal profile on LinkedIn. Then make your LinkedIn Company Page. Use your personal profile to build your professional relationships — with fellow alumni, past and current co-workers, colleagues, members of associations relevant to your industry, etc. and branch out from there. Your Company Page is the perfect platform to tell your company's story, so take advantage of this. Show off your services and products, and interact with followers. This is also a great place to post open jobs at your company. After you set up your Company Page, edit the "Experience" section in your profile to link your company to your personal profile. Ask any employees at your company to do the same.
Company Pages cut both ways: follow other Company Pages to find out how they are working LinkedIn.
Pinterest
Making a Pinterest Business Page does not require a personal Pinterest Profile. If you already have a personal profile, and it is chock-a-block full of business photos, then you can convert to a business page and keep the contents; otherwise, create a new business page. The advantage here is that you get all kinds of great tools for analyzing interactions on your Pinterest Business Page. Just remember to put personal pins on your own personal account.
Even if you do not have the time or interest in social media for your personal life, your company can still succeed in social media. Separate your personal and business accounts as required by each social media platform for best results.