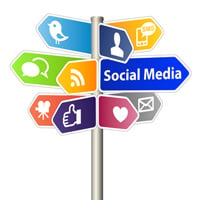 It sounds simple: increase sales at your small business using social media like Facebook, Twitter and LinkedIn. Social media means that businesses have more tools than ever to market their business. To get the best results, though, you need to use certain skills. And you need to be persistent.
It starts by figuring out where your target market is spending their time online. Try to find out which places they are most likely to be:
Facebook
Twitter
Google+
LinkedIn
Pinterest
Instagram
After you pick which social media platforms are most viable, set up the social media accounts. You can look up instructions or hire a social media manager to do it.
Then start by reaching out to people you already know. Most platforms will make suggestions about who to follow or invite to like your page. Be sure to follow the rules about how you are allowed to promote your business on that platform. Invite people who are already connected to your business to connect online:
Make links from your website to your social media pages.
Add social media widgets to your blog.
Put up social media posters with QR codes in your place of business.
Put social media links into your email newsletter
Run a special announcement and promotion to get more signups
Make an exclusive offer
Follow the social media platform's guidelines for running a contest or sweepstakes to attract attention
These techniques can help you start building your audience with people who already know your company. Then you need to start engaging them with updates and posts.
Post photos and share content. Ask questions. Share interesting information about your business and industry. Anytime you get an interaction, "like" it and reply to it. On LinkedIn, participate in discussions and answer questions in your areas of expertise.
You will find it easier to create effective content if you make a posting schedule. Decide how often you want to post, and what. Some social media platforms will allow you to schedule posts in advance. Sometimes you'll have to post them at the right moment. For example, you can schedule posts in Facebook. But if you want to upload a photo to a specific album on Facebook, you need to do this at the exact right moment. That should go into your calendar and be ready-to-use.
Coming up with content that is engaging is especially important in Facebook. This platform will give your content more exposure if it is getting engagement. If a post gets lots of likes, shares and comments, Facebook will show it to more of your likers. Likers who have engaged with your content recently will see more of your page's content. Engaging content will give you access to a bigger audience.
One great way to get engagement is to post original content on your website – ideally, on your blog. The more meaty, in-depth content often gets extra attention on social media. Share your articles and pay to "boost" them. If your article is visual, upload an image from the post into an album on Facebook and write a caption with a link to your article. This helps the article live on when people explore your pictures.
By taking it step-by-step, you can get more buzz about your business on social media. Whether you, your employees or outside social media manager handle it, making engaging content will help build up your business.