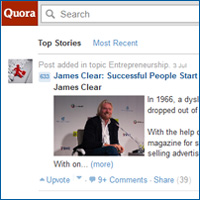 Quora is a question-and-answer website that can help you generate leads for your business. Quora allows users to ask questions on any topic and get feedback from knowledgeable users, or give feedback themselves. As a sales tool, Quora can be used to find leads, and understand what kinds of questions your market is asking.
By becoming an active member on Quora yourself, your business can begin to gain a presence as an educational resource. Start by building your profile. Positioning yourself as a source for answers means more people will begin to engage.
After establishing your profile, start looking for topics and questions that relate to your business. This is where you can learn a lot about leads you are preparing to contact. By visiting a lead's profile, you can find out through their Quora activity what questions they have, what they care about, and what they know about. Dig through their questions and answers to see what answers they have already received on questions they had. Maybe you can contribute additional information. This puts you in a position to solve problems and build a relationship with your lead.
Quora also has helpful analytics that you can use to your advantage. The number of users, and the names of those users, who have seen an answer you posted is available to you. This means you can seek out these followers individually with targeted content and potentially direct them to a landing page.
Quora also makes sharing with Facebook and Twitter easy to do. Broadcast one of your expert answers across your social media pages for more exposure.
Just remember that people are looking for answers on Quora.com and do not want to be marketed to. Make sure your business's presence there is helpful, and the leads will start to come to you.