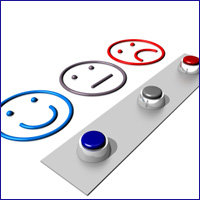 The better you know your customer, the better you can serve their needs and therefore, the more money you can make! You can use an online survey to find out who they are, what they want, and how you can fulfill their needs. What are the best ways to conduct online surveys, and how difficult is it?
Sociologists are the real experts on making a perfect, unbiased survey for social research; however, companies do not need a perfect survey.  Seeking perfection in a survey holds some companies back from getting started. To get started, all you need are:
A need to know more.
A set of specific goals.
A realistic survey length.
A motivation for people to take the survey.
A template in a full-featured survey system.
Need a Survey?
Turn to a survey when knowing more about your customer will help you serve them better. Surveys can be event-triggered, such as directly after an event or a discussion with customer service. They can be part of your preparation for planning upcoming seasons, promotions or events. And surveys are usually a good choice whenever you just need to know more. So long as you do not send too many surveys per year, you can expect to get some useful results. Your customer email list an excellent source of respondents; you can also put your survey link in your social media and website when appropriate.
Goals
You need a very specific set of goals for the survey, based on the question, "Exactly what will we do with the results?" For example, if the goal is to plan dance classes for the upcoming semester, ask questions about their wants, needs and availability for dance classes. Don't ask questions about the studio's quality of instructors, cleanliness, ease of payments, etc. Save those questions for a future survey.
Survey Length: SHORT!
The longer your survey, the less likely that people will complete it. Use a professional survey system such as SurveyMonkey (free to start; $17+/mo to download the results in a spreadsheet) or Constant Contact (free to start; $15+/mo for more features). These systems can show the survey-taker the approximate length of their survey and their progress. As soon as your colleagues hear you are planning a survey, everyone at your company will jump in to try to get their questions included in the survey. Resist! Refer back to your goals to keep the survey as short and easy-to-use as possible. If personal information such as name, email, address and phone number is not required to fulfill your goals, do not ask. If you use Constant Contact's survey tool, and send survey invitations from there by email, you will automatically know how each respondent answered each question.
Motivation
Why should your customers take the survey? Tell your customers how their answers will result in a better experience for them in the future. If you have a large percentage of raving fans, they will have an internal motivation to fill it in. Some people will need an incentive, such as getting entered into a drawing for a gift card. Never expect 100% of your invitees to complete your survey! Even a limited number of responses can help you take your customers' pulses, especially if you include opportunities to enter text (open-ended questions, "other" or "comment"). If needed, send an additional invitation to the people who haven't filled in the survey after a few days.
Template
Professional survey systems will include dozens of well-crafted survey templates. You should be able to choose one and edit it to suit your needs. Templates might include customer satisfaction, event satisfaction, event planning, course or training program interest, online shopping experience, website feedback, purchase intent, newsletter feedback, and support call follow-up. A good survey systems will include different types of questions (choose one, multiple choice, ranking, open-ended, other, comments) and be easy to set up.
The Internet makes it easy and inexpensive to get to know your customer better. Use online surveys to understand what your customer wants today, and send surveys in the future to understand their changing needs.