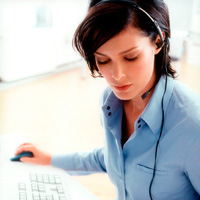 Customer service with social media is a trend, and customers are expecting to get questions answers and problems solved on Facebook, Twitter and other forms of social media. Just as everyone expects your company to have a website, pretty soon customer service via social media will be the norm. If your company is doing any social media at all, you are probably already getting questions from customers.
Here are four tips for providing better customer service on your company's social media channels.
Tip #1: Monitor Constantly and Respond Promptly
Want to know how much customers are turned off when they are ignored? Taking too long to get back to a comment or tweet can actually break the relationship. Regardless of your company size, set up constant monitoring and alerts for all the social media channels you are using. An all-in-one social media solution such as Hubspot can sound the alarms; or you can set up your own system. For example, Facebook can be trained send an email or text when something happens on your company's page. Applications for computers and mobile devices can help.
What kind of response time standard should your company have? During business hours, less than 5 minutes is ideal. Many social media users pop on and off throughout the day, so if you respond quickly, your customer is satisfied more quickly. If the problem is not solvable right away, have some responses prepared, such as "Sorry you are having problems. We will look into it and get back to you shortly."
Tip #2: Don't Whitewash
Every complaint is an opportunity to discover something important: what your customers really want, for example, or glitches in your own systems. Right out there in the open!
Do not be afraid of complaints on social media! Unless they are downright abusive, these consumers are giving you a chance to make it right and turn them into customers for life. Respond to complaints in a rational, level-headed manner. Empathize, then make things right if possible. And don't try to cover up. In a public forum, everyone can see your posts.
Tip #3: Be a Real Human
Any staff member who is responding to customers on social media should sign their name. First name and last initial give assurance that "This is a real person." Like this, "We are sorry your shipment was incorrect. We will do everything we can to make it right. — Lori G." Be helpful and friendly.
Tip #4: Monitor and Learn
Keep track of your company's customer service with social media interactions, and monitor how they play out. Is everyone at your company doing their best to help customers? Review interactions as a teaching tool to coach your customer service reps.
Social media implies transparent customer service because it's all out there in the open, positive or negative. This is a chance for your company to show its competence and win customers over!