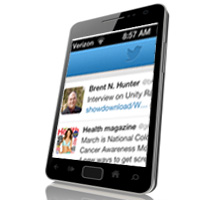 Businesses that want to take advantage of Twitter need to know how users are accessing their tweets and how often this is occurring. Approximately 120 million users access Twitter from their mobile phones every month, stated Guy Yalif, head of global product marketing at Twitter. Twitter's roots began with text messaging, hence the 140 character limit, so it is no surprise that mobile users make up such a large proportion of the user demographic. So what makes the "mobile-first" approach of many Twitter users special?
According to a survey done by the company Compete, Twitter users who access the site primarily via their mobile phones are 86% more likely to log multiple visits per day. These Twitter users are often accessing the platform at work or school and were found to be three times more likely to log in during a commute. People with mobile access are able to read and tweet all day, every day.
Companies who tap into this mobile Twitter pipeline can talk to and monitor their market real-time. For example, a Starbucks outlet in the UK promoted a "Frappuccino Happy Hour" through Twitter and recorded a 70% increase in tweets about visiting the store. Twitter has also begun to play a major role in TV watching. Any sports fan who watches ESPN can tell you how often tweets by athletes, writers and even the public make appearances on the broadcasts. Some 24.1 million tweets were sent about the Superbowl and the half-time show.
Building a Twitter following can be simple and cost-effective. Those companies savvy enough to target their tweets at mobile Twitter users may enjoy a nearly 80% higher chance of having their brand's message retweeted. By monitoring Twitter and other social media outlets, it has become possible to have almost personal relationships with your biggest fans. Companies can speak directly to those people who adore them and, as long as the content is rewarding, can expect their social reach and viewer base to grow.