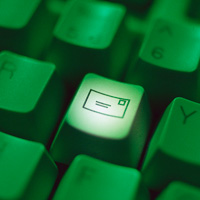 Most businesses value being efficient in everything, and this includes email marketing. Sending emails to your opt-in list is important for building relationships and making sales. It's easy to get pulled into spending time on email marketing activities that could be automated. This riddle illustrates the point: "How many marketers does it take to change a light bulb?" Answer: None, they automated it.
Here are some tips that can save you time and make your email marketing more efficient.
Use an Authentic Email Marketing System
If you are using "Carbon Copy" or "Blind Carbon Copy" to send out your emails, you're wasting time dealing with bounces and unsubscribes. It's hard to tell the difference between certain bounces and actual humans replying to the email (leads). Email marketing systems such as MailChimp, iContact and Constant Contact automate most of the bounce management and intercept the bounce messages for you. They also let you schedule emails in advance and re-send an email to those who didn't open it the first time.
Re-Use Your Email Template
It is unnecessary to start each new email from scratch. Instead, create an email template that is branded for your business, and re-use it for each mass email you send. You might need a one-column email template for brief announcements, and a two-column email for a more content-rich newsletter. Both should have your logo, colors and contact information. When it's time to send an email, just make a copy of the template, insert your content, and send it. If you need someone to make the email template, look for a "marketplace" on your email marketing service's website to find an expert.
Automate Business Card Data Entry
Do you have a shoebox full of business cards from a trade show? Do you dread wasting time entering the details into your contact management and email marketing systems? Just hand this task off to Shoeboxed. Mail your business cards to them in a postage-paid envelope and they will scan the cards. You will receive a file that can be uploaded into most email marketing systems and contact management databases.
Collect Email Addresses Automatically
When someone writes down their email address on paper, there is a good chance it will be illegible. This is a huge waste! Automate this by using subscription tools, which should be provided by your email marketing service. Perhaps they can give you a QR code that your new subscribers can scan with a smart phone to subscribe. People with regular mobile phones could subscribe via text message. Or you could utilize something like the Constant Contact Capture tool, which runs on a computer and allows new subscribers to enter their contact information quickly into your email marketing account.
Remember, email marketing is an important component of your marketing mix; but you shouldn't waste time. Use tools to be efficient and create a streamlined email marketing machine.